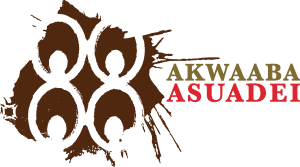 Team Ghana
On October 18, 2010, Emelia Boateng opened a school in Asuadei, a small village in Ashanti Ghana, about 50 km from Kumasi. The school was named 'Willy-Taylor Academy', after the two first volunteers who stayed there. She followed in the footsteps of her father, Kwabena Boateng, who already ran a school in Esaase.
Emelia gave up her "luxury" in Esaase to move to a small cottage in the countryside. Unlike in Esaase, there was no running water and hardly any electricity. The then four-year-old son Nana therefore stayed in Esaase because he already went to school there. Kwabena, who was one and a half years old at the time, did move to Asuadei. Meanwhile, her family consists of 5 sturdy sons.
Fortunately, Emelia can count on a local team of employees to help her. At the moment the team consists of 10 teachers, 1 headmaster, 1 school bus driver and 2 kitchen staff. A parent council was also installed. And if construction work or other jobs have to be carried out, she always opts for local workers and local contractors. In addition, she also receives support from the village chief and his employees and various volunteers from the village.
The most important? The school currently has about 200 children! Toddlers, preschoolers, primary school and lower secondary students are welcome at the Willy-Taylor Academy.
Her dream was simple. She wanted to give as many children in the area around Asuadei as possible the opportunity for a good and affordable education. The public schools may be free in Ghana, but the quality is unfortunately below par. The private schools perform well, but most of them are unaffordable for our students. Emelia wanted to do things differently. Every child was and still is welcome in her school. And with the help of Akwaaba Asuadei, her dream also became more and more reality. Together we worked out scholarships and construction projects to make this local initiative grow!